Koh Samui Sea:
Beautiful Emerald of Thai Gulf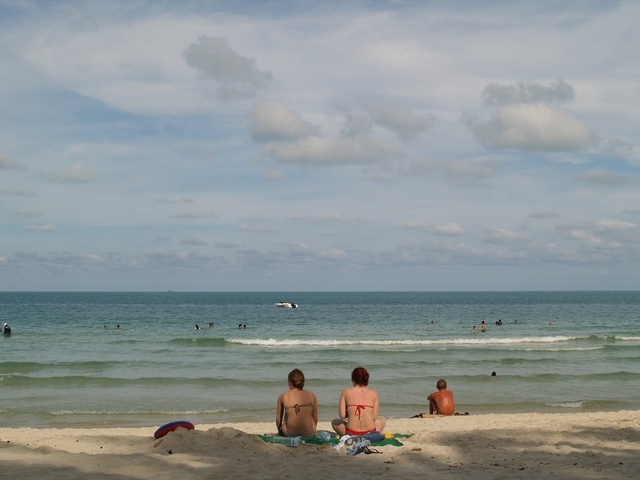 The paradise island or Koh Samui, located in the Gulf of Thailand, is just a 90-minute express boat riding from the village of Don Sak, near Surat Thani province. It is the third largest island and the jewel of an archipelago comprising 80 islands, of which only six they are dweller. Most originated residents of Samui Island are either fishermen or coconut farmers. Some two million coconuts are shipped monthly from Samui to Bangkok. Though the island was originally discovered in 1981-82 by some backpackers, transportation improvements in recent years have made access easier and increased its appeal among travelers who are accustomed to a little more comfort.
Let's travel Koh Samui
The main attraction in Samui Island is its charming scenic and enjoying stretches uncrowded beaches, soaking up the sun and reveling in the clear blue sea waters. Sightseeing is rather limited, but you can rent a motorbike or jeep or even hop the local public transport when you are bored or tired of the beach activities. The Islands perimeter road is 58 kilometers, fully asphalted but a bit narrow. From the main coastal perimeter road small unpaved access roads linking the beaches, villages and a few other destinations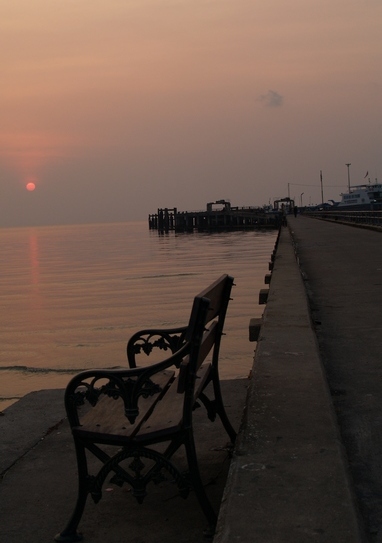 The starting point is the main pier at Nathon in Ang Thong district of which you are get out from the boat. Baan Nathon is the main pier and two main roads leading northeast through Maenam, Bophut terminating at Chaweng Beach and southeast ending at Lamai Beach. It is impossible to drive directly from neighboring Chaweng to Lamai Beaches or vice versa. Nathon is a nice old fashioned port town. The majority of some buildings are wooden structures in mostly the old Chinese shop house style that still persists in Bangkok on a very limited scale and lend an old world charming to this somnolent port. Maps freely available at the port show Nathon to have Chinese style provincial hotels, several banks, many travel agencies, an immigration office and police station, souvenir shops with local artistic T-shirt, silver jewelry and the variety of many restaurants including seafood, Swiss and Arab. Nathon's main allure however, is its infrastructure of telephone. Telex, ticket offices, post office, pharmacies and a meeting place to visit and talk with other travelers staying at different beaches on the island.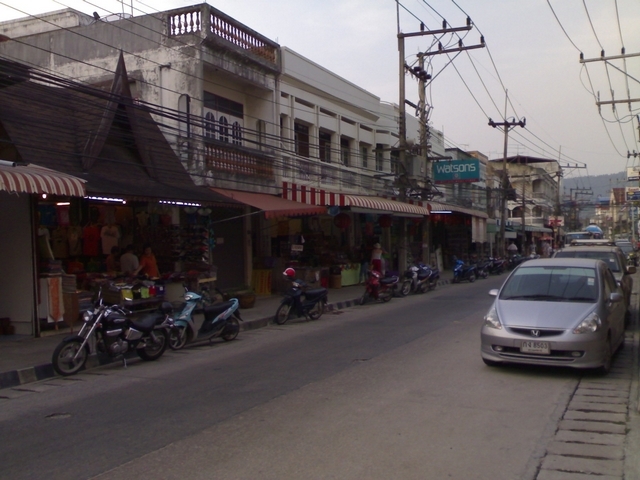 The journey from Nathon to Chaweng Beach along the northeastern coast is less mountainous and rich in fruit orchards and coconut plantations. The first fishing village about a quarter of the way to Chaweng Beach is Baan Bang Por which has breathtaking views over the strait which separates Koh Samui from Koh Pa Ngan. Further on is a Bophut village with its small morning market and Beach including Big Buddha on nearby Fan Island.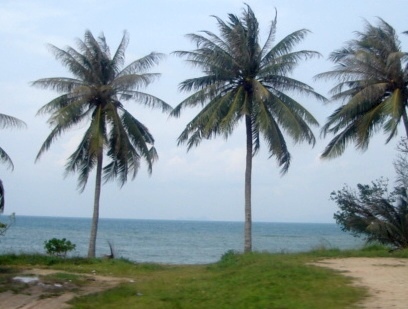 The Samui airport is located here which you can reach Chaweng Beach northeastward (turning right traffic) at intersection after leaving the airport way.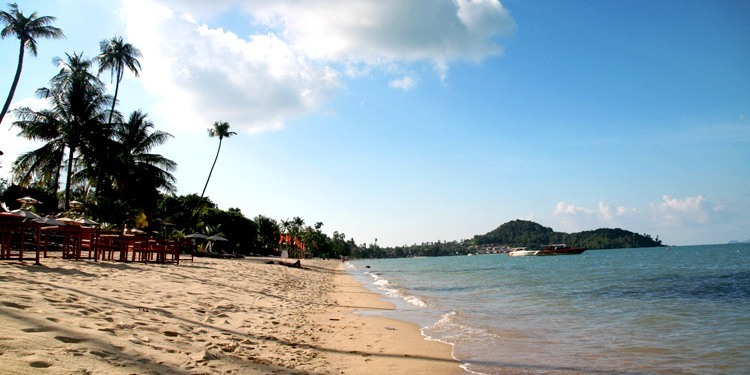 Chaweng Beach is a long, long white sandy beach with modern accommodations and several national restaurants as well many more premium shopping houses. At the very end, toward the rocks separating it from Lamai Beach which is near the Coral Bay Resort, are very economic alone dwellings of thatch on stilts a few feet of the ground with communal bathroom; nearer the center are the better resorts blossoming side by side down the almost straight unbroken beach. Chaweng Beach is basically its own little world populated by old style hippies, new style yuppies, sports enthusiasts, swinging singles and happy families, a combination of Thais and foreigner visitors from literally everywhere. Possibly Samui is a paradise destination for those who love Thai seas.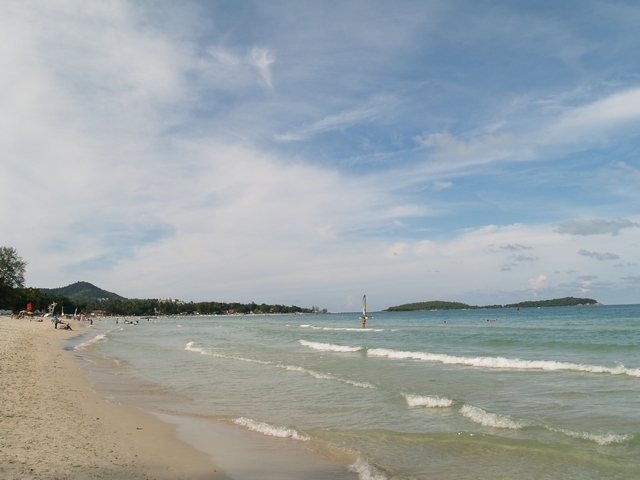 Go straight through Lamai Beach from Ang Thong district is approximately 2 kilometers according to a national road sign and a few distance from main road of which Hin Lad Waterfall is located inside deep Lush Mountain Hin Lad can be done on foot from town in one morning. Hin Lad is your archetypal lovely cascading waterfall setting in the midst of exotic green foliage and countless bright flourishes of extravagant flowers; a great alteration from the burning sun, glittering beaches and seaweed laden tropical sea breezes. It is great for clear unsalted water swimming and being picnic. The dark, cavernous forests bespeak the primeval, so in fact the diversity is refreshing and exhilarating.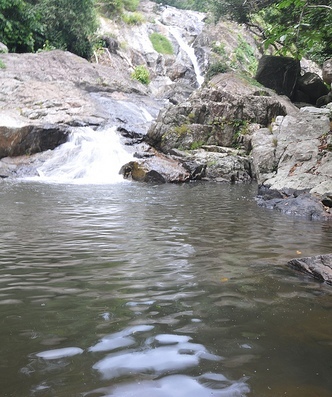 Returning to the main road you pass a small village called Lipa Noi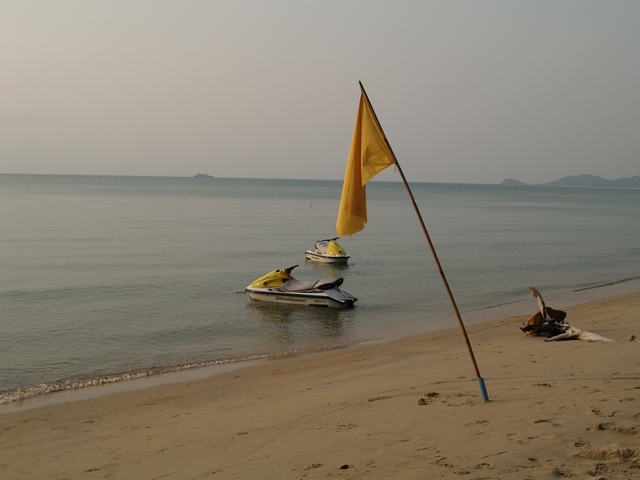 where the turn off for Tong Yang Harbor serving the Surat Thani province (Don Sak) ferry is. However, keeping the main road, you will pass the village of Baan Sa Ket, the almost half way point across from the traditional villages of Baan Taling Ngam and Thong Grud which can be reached by road of Baan Sa Ket. It should be mentioned briefly that local points of historic or cultural interesting in Samui's villages are limited but for observing traditional fisher folk village life as it has been for centuries the villages are authentic and unchanged. Continuing on you will see many coconut plantations and odd durian orchards or two before reaching Na Muang Waterfall.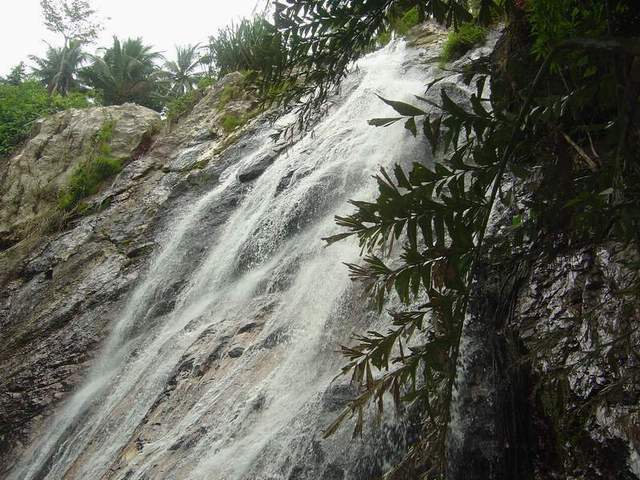 The Samui' people said that if you haven't seen this cascade you haven't seen Koh Samui. Na Muang Waterfall is much larger and more dramatic than Hin Lad Waterfall. Water falls down a sheer vertical colored mountain facing into a smooth rocky bottomed pool ideal for swimming. This has been a favorite spot for many of Thailand's King during the past two centuries. Further on is Hua Thanon village which once was a large bustling market but is now decimated. A kilometer onward is Silangu with its famous pagoda, or Chedi, reputed to enshrine a bone fragment of the Buddha Gautama. This is calm, serene and tranquil place with the nature that gives substance to the Buddhist doctrine of peace and non violence. Several times a year traditional Vipasana (Meditation) courses are conducted and foreigners are invited. The living conditions are Spartan; the discipline is rigid and personal spiritual result.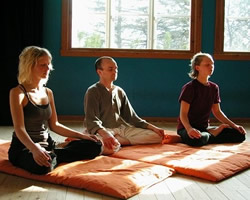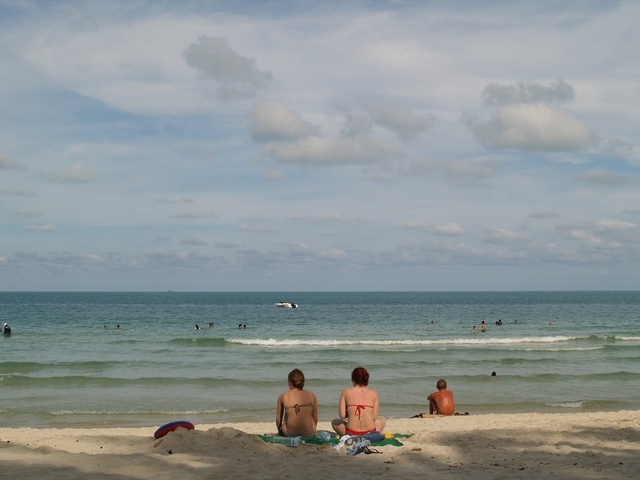 Next stop Lamai Beach, a long sandy beach with smooth rocks dotting the shoreline, together with Chaweng Beach the first beach to be visited and crowded by foreigners, although Chaweng Beach has some developments gone more up market. Lamai Beach is plenty of bungalows for teenager backpackers, V.D.O., restaurants, a few wind sailors, some snorkellers but most evident of all lots of happy people. One curiosity at Lamai is the odd rock formations aptly enough called "Grandfather Rock" and "Grandmother Rock" because they are similar to male and female genitals.
One thing in reality of Chaweng and Lamai Beaches is very powdery sandy beaches and far cry from anything. Most overseas visitors dream to visit once in a life for paradise island. In the unusual case of Samui for called of modernization or "commercialization" translates "infrastructure", the beauty of the sea beaches and the sincere of Samui people are still remain waiting visitors all around the world anytime. Enjoy your stay on the paradise on earth, Samui Island.
NEARBY KOH SAMUI
A group of Ang Thong Marine National Park: This comprises some 40 islands about 20 kilometers or two hours by boat northwest of Koh Samui.The park covers 250 sq.kilometers., of which approximately one fifth is land mass. The most attractive islands include Koh Wua Ta Lab (Closed-eyes Cow Island), Koh Mae Ko, Koh Prayat, Koh Sam Sao, Ko Nai Put and Koh Wua Te. Most islands comprise limestone masses reaching heights of up to 400 meters, and fringed by beaches and rain forest. An emerald salted-water lake known as Tha Le Nai (Inland Sea) on Koh Mae Ko is the park's major scenic attraction, and entails a mildly strenuous climb. The resultant views are well worth the effort. Another popular venue is Koh Sam Sao where an extensive span of coral reef and a huge rock arch offer scenic fascination.
The park office is on Koh Wua Ta Lab where bungalow-style accommodation is available. Visitors wishing to stay overnight should make an advance bookings and specify whether meal services are required, either through the Ang Thong Marine National Park office, 141/1 Talatlang Rd., Surat Thani province, Tel. 0-7728-6025 or 0-7742-0225.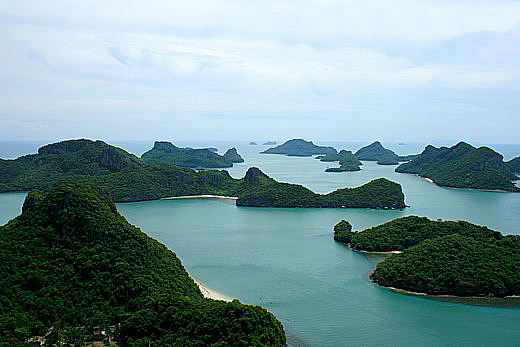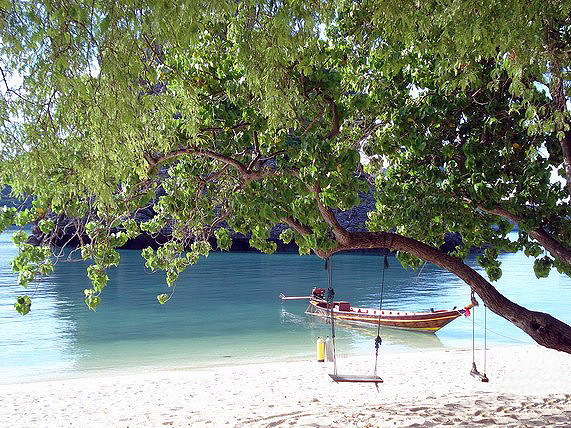 Koh Pha-ngan: Another ideal destination for travelers who prefer less crowded, more private beaches set in a laid-back atmosphere. However, this is also a very hip place to be as the island hosts the world famous, and perhaps the biggest beach party on this planet the full moon party on Had Rin.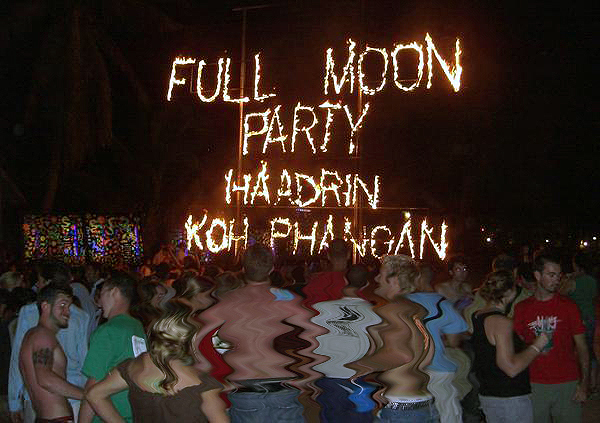 Covering an area of 191 sq.kilometers., Koh Pha-ngan is located 20 kilometers directly north of Koh Samui, or approximately 100 kilometers from Surat Thani. The best time to visit this island is from February to September. Interesting attractions include secluded and virgin beaches around the island,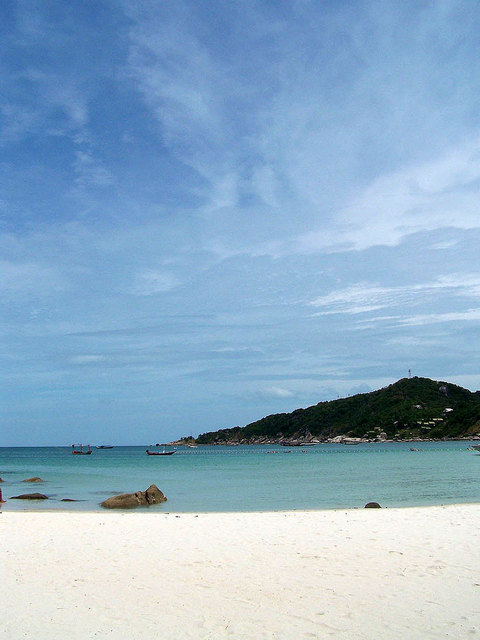 a hilltop temple called Wat Khao Tham(The temple of caved-mount) which is ideal for meditation, Than Sadet Waterfall, and Phaeng Waterfall National Park. Renting a motorcycle to explore the island is recommended since there is a lot noted list to see and do.
Koh Tao: Situated 75 kilometers off the coast of Chumphon but falling under the jurisdiction of Surat Thani, Koh Tao lies 45 kilometers north of Koh Pha-ngan and is only 20 sq.kilometers. in area but it is well known as the best diving site in the Gulf of Thailand. The tranquil water of Koh Tao is crystalline, coconut plantations still cover much of landscape, and concrete roads are built along only a few beaches. Getting around the island is either by pick-up taxi or by boat. Motorbikes and mountain bikes are also available for rent to experience the island.
Infact, Koh Tao is a sub district of Pha Ngan district Surat Thani province. It is composed of 2 islands which is Koh Tao and Koh Nang Yuan. Koh Tao is far away from Koh Pha Ngan around 45 kilometers. Its appearance is similar to un-rounded peanut which is plenty of 11 beautiful bay and 10 fascinating capes. Moreover, reefs formation is 8 kilometers long.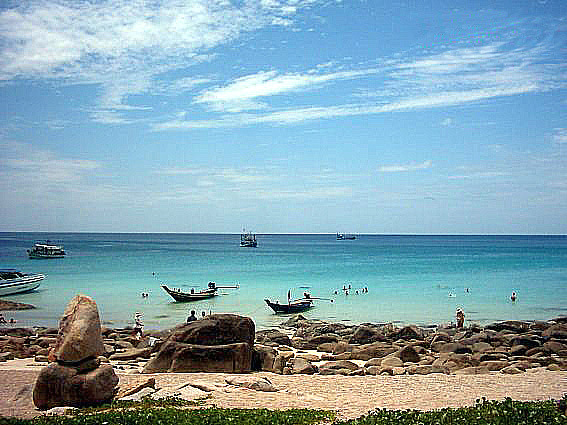 Koh Nang Yuan: The island is nothing but a group of three small islands located to the north of Koh Tao just 15 minutes. Offering stunning and breathtaking views, the islands are connected by a three-way stretch of pure powdery sandy beaches. The rich marine life around Koh Nang Yuan is similar to Koh Tao. With a wide variety of coral formations, the island is also an ideal for diving and snorkeling spot. Accommodations and facilities are available on daily boat service to and from Koh Tao.