Koh Chang or Chang Island Sea
The Islands nearby Koh Chang :
Koh Mak: It is the second largest island after a group of Chang Island National Park, situated between Koh Chang and Koh Kood. Most of all areas are coconut trees and the road on the island is made of laterite. There are many many beautiful beaches on this island. Houses and bungalows are available for rent. The best period for traveling is from November to late April. The Koh Mak island consists of 9 small islets, namely: itself, Rayang Nai, Rayang Nok, Pee, Kham, Kradad, Noke (Bird), Nok and Nai Islands.
Other intersecting islands: There are some other small islands which do not have anything in particular like Koh Noke (Bird), Koh Nok and Nai, Koh Pee (Ghost), Koh Chang Noi. There is a coral area underwater from Laem Chang Noi to Koh Chang as well.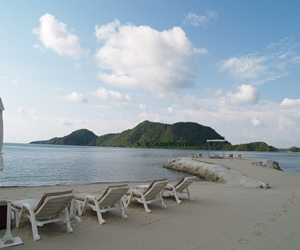 Koh Man Nok & Man Nai: These are small islands across from Kai Bae Beach. When the tide is low, visitors can see the bottom of sea floor and the beach are very shallow and full of golden seaweed.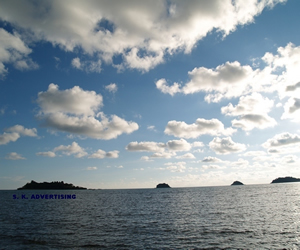 Koh Khlum: It is a historic island during the Naval Battle time. This island is good for fishing and viewing the specially stony sea floor.
Koh Laoya: This island is also pretty small near Koh Chang. There are two islands that is Laoya Nok and Laoya Nai Islands. It takes 2 and a half hours riding from Laem Ngob to get there.
Koh Wai: Koh Wai is quite large which is near Koh Laoya. It takes 2 and a half hours as well riding from Laem Ngob. Most of the beaches are stony but the bay are beautiful lined up beaches. The wide coral lines are in the front part of the island. houses and bungalows are available.
Koh Prao (Koh Sai Khao): It is in the southern part in front of Salak Phet Bay. It takes 2 hours riding from Laem Ngob pier to get there. The beach is so clean sandy beach as its name "Sai Khao" (White Sand) and shady from coconut trees.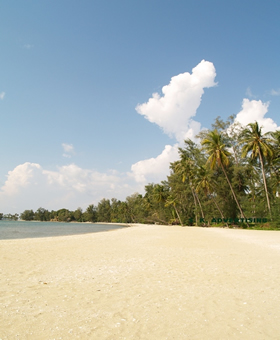 Koh Ngam: It is in the southern part next to Koh Chang. The geographic landscape is two mountain connected to each other. At the connecting area lies a white sand mound between the two mounts. There are 2-3 small beaches, a big and a small ones, taking time to get there 2 hours from Laem Ngob pier.
Koh Kra: It is a group of small islands to the west of Koh Mak. No flat land to stay on the island. It is used to concession of the edible-nest swilftlet, silver pom fret roes and bat droppings. There are beautiful deep sea water corals as well.
Koh Rang: It is a small island 6 kilometers from Koh Mak. No flat land to get on, just a little empty room near the beach. Around the island is a habitat of many beautiful corals, easily see.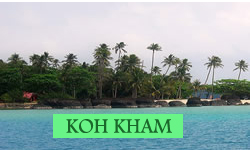 Koh Kham: It is a small island as well which near Koh Mak. It takes time about 2 hours riding to get there. The beautiful greenery nature and serenity of this island drawing travelers to visit them. Moreover, corals are very colorful and many beautiful marine life. Overnight is allowed, bungalows are available.
Koh Rayang Nai-Rayang Nok: Koh Rayang Nai has no places to overnight stay and no beaches, but Koh Rayang Nok is different one, there is beautiful beaches and some places to overnight stay. However, the same attractions either Rayang Nai or Nok are sea water around the islands are so blue and the coral reefs, marine lives are around this two islands.
Koh Kradad: It is situated in the northeastern part of Koh Mak. In the past, there were many Paper trees growing on this island, that is got its name. This is the only island that the government issues the Landing Title Deed for people for those who own the property. During the time of King Rama V, which were the same time of French colony tried to invade Thai people of which got them property, the King bravely issued the Landing Title Deed for the whole island to Thai Kingdom. Anyway, the beaches of Kradad island are very powdery sandy beaches and the sea water is so dark blue sea. Travelers can take a walk round island. It takes time approximately 2-3 hours riding from Laem Ngob pier to get there. There are some resorts located here, it is very sympathy that now some international try to contract the government to develop several projects on there.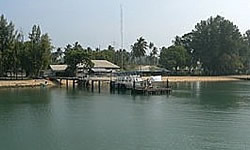 Koh Kood is the last island of Trat province and also Thai Kingdom. It is quite largest island of the country which full of natural resources and beautiful sandy beaches, natural streams and waterfalls too. Some interesting places on Koh Kood are as follow .:
Khlong Chao Waterfall: The other name is Tarn Sanook Waterfall. This is the famous waterfall on Koh Kood. The cascade has three layers, the upper ones are streams and the lower lay is the waterfall. King Rama VI once visited this waterfall in 1901 and gave a new name "Nam Gog Waterfall" (Water tab waterfall) for this cascade.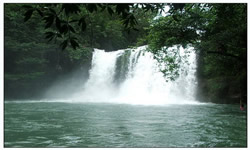 Yai Bay: It is situated in the east of Koh Kood near Laem Yai bay. There are fishermen village all over the bay. This is a transporting area for fishery products like shrimps, shell, crabs and several fish. The good fish sauce is produced here too. It is also the place where Luang Poh Daam shrine located.
Jaak Bay: On the east of island, the beach is 500 meters long and the sea water is so good enough for swimming. There are coconut trees standing out on the shoreline. It is another charming place to see the sun setting. Camping on this area please ask for permission first.
Yai Kerd Bay: On the east of island all, it is located near Gluoy bay and Ta Tui cape. The white sandy beach is in crescent shape (half circle) and 800 meters long. The surroundings are quite clam and good for relaxation. It takes time 15 minutes on foot from here to watch the sunrise.
Klong Yai Kee Beach: On the west of island, the beach is pretty long and sea water is great for swimming. The area is similar to Klong Chao Waterfall, But less beautiful. Visitors can watch the sun setting here; camping around here visitors have to ask permission first.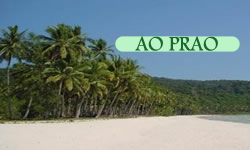 Khlong Hin Beach: On the west of island, the beach is 300 meters long. The sea water is very clean and safe for swimming, importantly, beautiful coral reefs are around.
Prao Bay: On west as well,It is the last bay of Koh Kood which near Tien cape. The sandy beach is 800 meters long, the sea water is very clean and ideal for swimming. Camping around here is very great. The statue of Luang Chumphon Ket Udomsak is located here as well.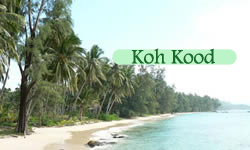 Rad Island: Located on the west, across from Khlong Jekky. It is a quite small island, being 2.03 square kilometers. It is far from Koh Kood just 400 meters; but the romantic sun setting scenes are be seen here. The sea water round island is suitable for swimming as well.
Mai See Lek Island: On the northwest of Kood island, it is a small island with 16 square kilometers. On the west side of it, there is a sandy beach and visitors can swim in the sea; on the other hand, the east side is a pearl farming which you can visit by asking permissions as well.