Thailand National Uniquenesses
The National Flag:The Flag of the Kingdom of Siam was created during the reign of King Rama II and flew on all Siamese sea-going vessels. The Symbol of a white elephant on a red background was chosen because whites are considered very auspicious by Thais.King Rama II was known as the "White Elephant King" as he had three of these noble animals in his possession during his reign. The five horizontal stripes of three colours: Red, White, and Blue have very significant meanings. Red signifies the life-blood of Thai people. The White stripe symbolizes the purity of Buddhism, the national religion. And the dominant Blue stripe means the Thai King, the monarchy and the important part its plays in the daily life of Thais. The present national Thai flag, the "Tri-Rong" or three sacred colours, was designed by King Rama VI and first used on September 28, 1917. The flag is raised daily at 8.00 a.m. and pulled down at 6.00 p.m. flying all official buildings, public places, large private enterprises and every learning academy. The flag is also flown nationwide on national holidays.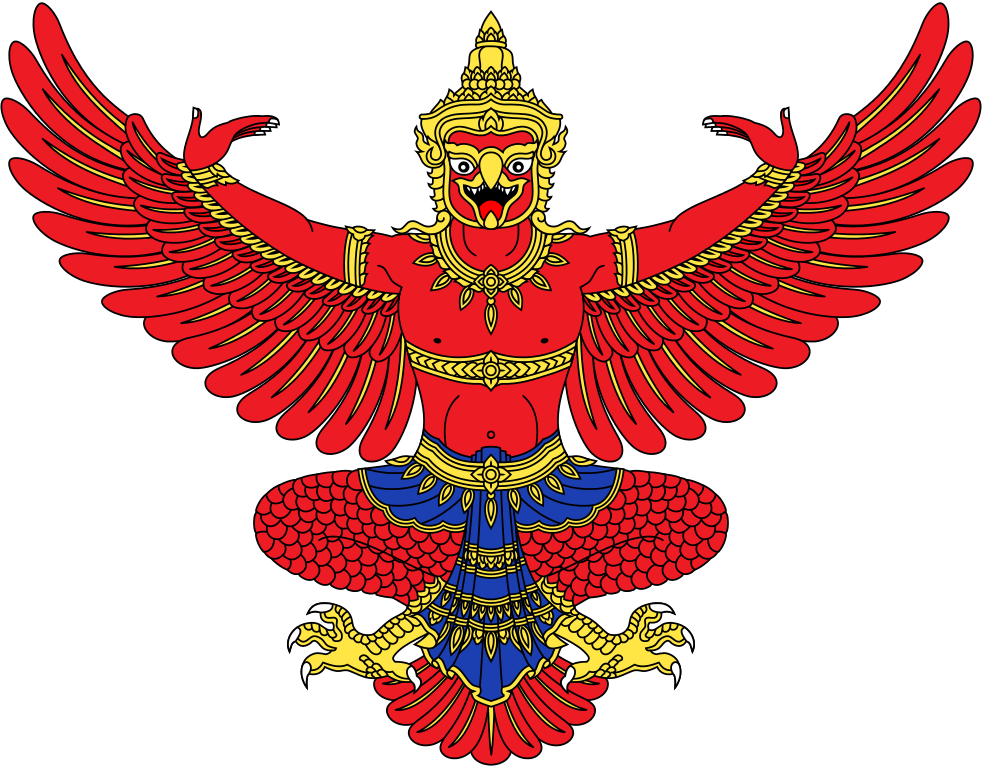 The Thai National and Royal Symbols is the GARUDA: a mythical half-bird and human figure (steed of the Hindu god Vishnu) that adorns King Bhumibol Adulyadej's sceptre and royal standard. Many ministries and departments have incorporated the GARUDA into their insignias. Moreover, the GARUDA is signification of being "By Royal Appointment" and is awarded, at the personal discretion of H. M. the King, as a sign of royal approval to companies that have rendered outstanding economic and charitable services to Thailand. Such an award is rarely bestowed and considered a great honour.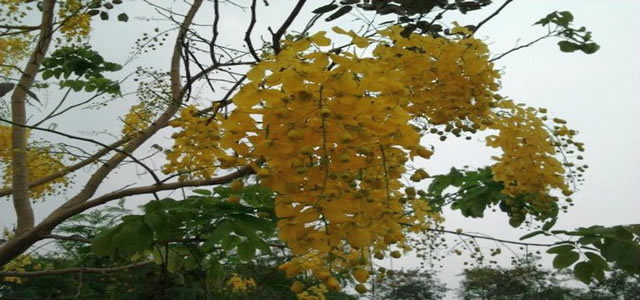 National Flower "Ratchapruek" or (golden shower): Ratchapruek (Thais are called Ton Koon or Dok Koon) is chosen as national flower because it is widely known to people and possible to plant anywhere around the Kingdom. It bears beautiful cluster-shaped flowers in summer. The colour of it is shining yellow, and this colour is Buddhism which is national religion as well as colour of Monday when His Majesty the King of Thai Kingdom was born.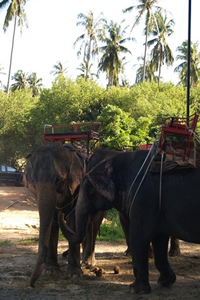 National Animal "Chang Thai" (or Thai Elephants): Chang Thai is selected as national animal because it has maintained close link with Thai history and custom, it has a long life and it is closely related to the livelihood of Thai people as one of transportation meaning both in time of peace and battles. Especially, "White Elephant" is deeply connected to King of Thailand, and it is portrayed in the former national Flag.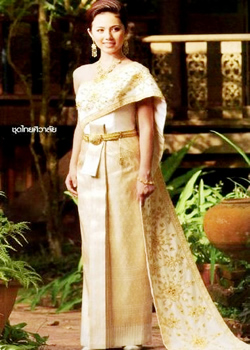 Thai National Dresses "Thai Dresses" (or Chud Thai): When H.M. Queen Sirikit accompanied by the King Bhumibhol Adolyadej (Rama IX) in state visits to Europe and the United States in 1960, H. M. noted that there was a need for a modern national costume suitable for formal wear. The queen had researched and conducted data from historical records of royal dresses, and eight official designs were developed and promoted by the queen herself and her aides.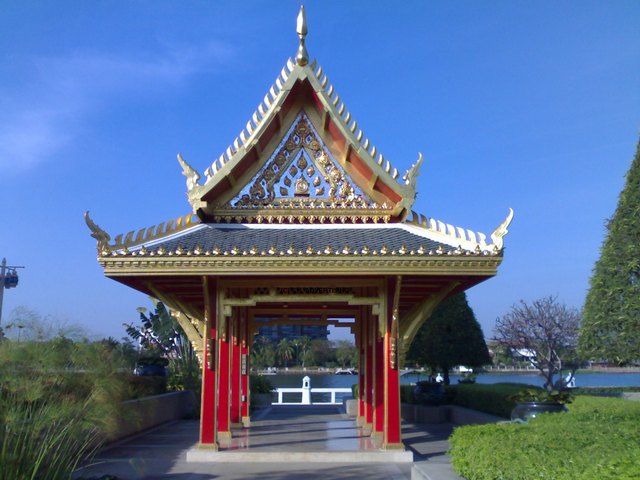 National Architecture "Sala Thai" (or Thai-Style arbor): Sala Thai reflects knowledge of Thai people. It retains beauty, which is different from style of other regions. Visitors can learn "Thai-ness" through Sala Thai.