Thailand Thousand Festivals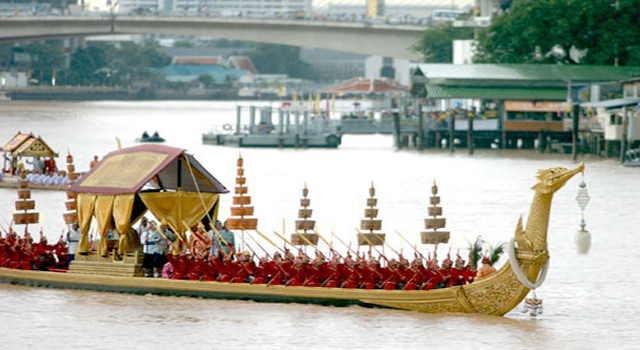 Thais are fun-loving's, sentimental people and annual festivals, both commemorative and celebrating, play important roles in Thai life. Many Thai festivals are joyful, colourful events that invite visitors' participation. Others feature solemn, eminently photogenic. Whatever their character, whether dazzling processions, Buddhist devotion, uninhibited merriment or exotic ritual, each affords the visitor pleasant memories and insights into the cultural heritage that makes Thailand Asia's most exotic country. Most festivals are connected either with Buddhism, the annual rice-farming cycle, or commemorations honouring Thai Kings. Some occur on fixed dates, others particularly those associated with Buddhism, are determined by the lunar calendar. Many merit national holidays. Chronologically, Thailand's major festivals, and events, are as follows: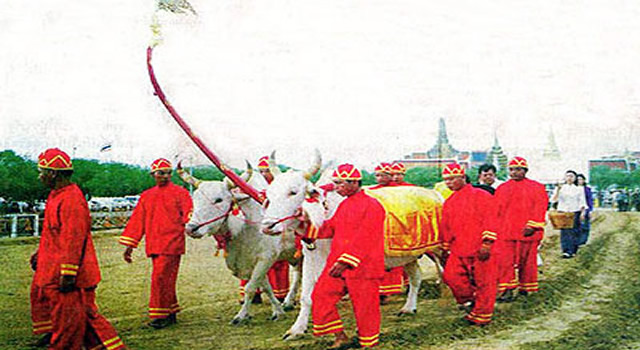 ROYAL PLOUGHING CEREMONY
Usually early May, at Bangkok's Sanam Luang.
This ceremony marks official commencement of the annual rice-planting cycle. Presided over by His Majesty the King, elaborate Brahman ritual and ceremonial combine to provide predictions concerning the forthcoming rice crop.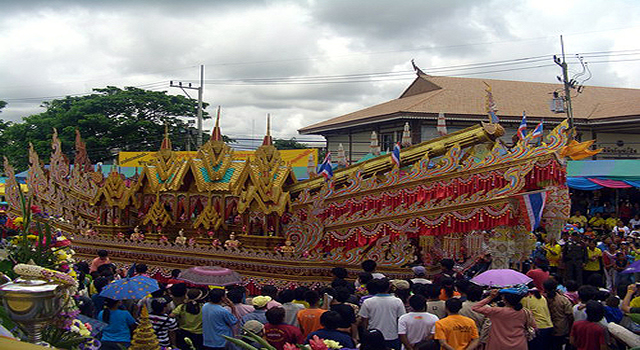 ROCKET FESTIVAL
The second weekend of May, and best seen in Yasothon, northeast Thailand. Prior to the annual monsoons. Northeast villagers construct gigantic rockets to fire into the sky to "ensure" plentiful rain during the forthcoming rice season. The Rocket Festival is traditionally a period for letting off steam before arduous field work begins in earnest, and features beauty parades, folk dances, ribald and high-spirited revelry before the rockets are ceremoniously launched.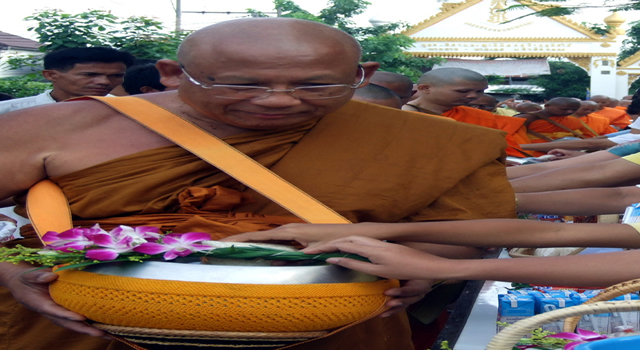 VISAKHA PUJA
Full moon day, May, National holiday: Visakha Puja is the holiest of all Buddhist holy days, and marks the Buddha's birth, enlightenment and death. Merit-making and ceremonial are identical to Makha Puja.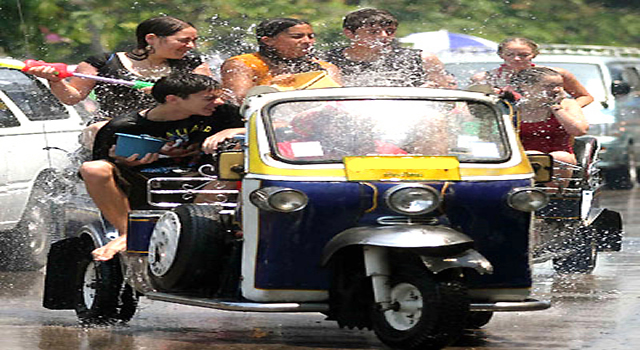 SONGKARN FESTIVAL
(Water Splashing Festival)
April 12-14, Nationwide.
The old Thai New Year is an occasion for merry-making in Bangkok as well in other parts of the country, with religious ceremonies as well as public festivities. Anyone who ventures out on the streets is likely to get a through soaking, but in all a spirit of fun, and welcome at the peak of the hot season.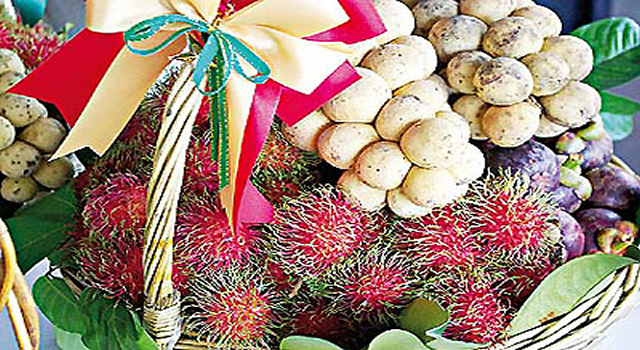 FRUITS FAIRS COUNTRYWIDE
These annual fairs feature delicious provincial fruits--including rambutan, durian, jackfruit and pomeloes, and feature cultural displays, exhibitions and folk arts. Major provinces that celebrate fruits fairs are Rayong, Chantaburi, Chachoengsao and Hat Yai in Songkhla.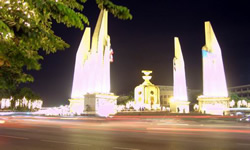 H. M. THE QUEEN'S BIRTHDAY
August 12,National Holiday.
Nationwide celebrations find particular focus in Bangkok where government buildings are decorated and illuminated at night with coloured lights.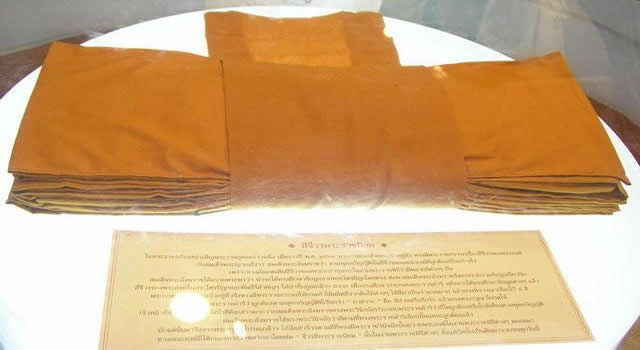 OK PHANSA & THOT KATHIN
During October.
Ok Phansa celebrates the end of Rains Retreat and introduces the Ka thin period when, throughout Thailand, the Buddhist laity present monks with new robes and other items deemed necessary for the monkshood's upkeep during the forthcoming monastic year.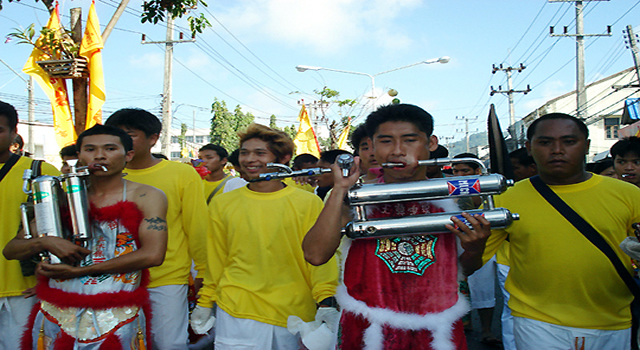 VEGETARIAN FESTIAVAL
During October.
Phuket Islanders of Chinese ancestry commit themselves to a vegetarian diet for nine days. The festival's first day features a parade of white-attired devotes and several ascetic displays.
BOAT RACES FESTIVAL
During October.
The Kathin period marks the official end of the Rains Season and is the time for country fairs, many of which feature regattas. Nan, 790 kilometres north of Bangkok, has famous boat races. Other noteworthy regattas are held in Surat Thani, Phichit, Nakhon Phanom and Pathum Thani.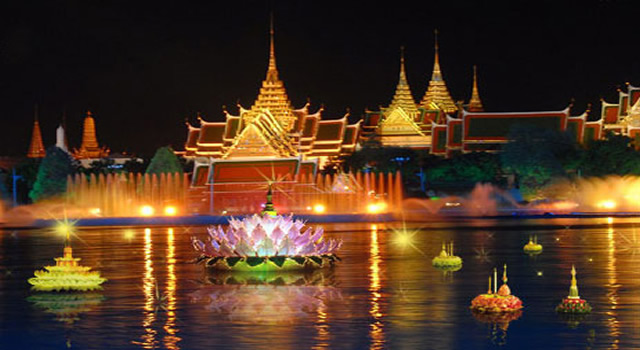 LOY KRATHONG
(Candle Floating Festival)
Full-moon night of November.
This is Thailand's loveliest festival when under the full moon, Thais float away onto rivers and waterways, Krathongs, leaf bowl containing a lighted candle, glowing incense, a flower and small coin to honour, it is believed, the water spirits, and to wash away the previous year's sin.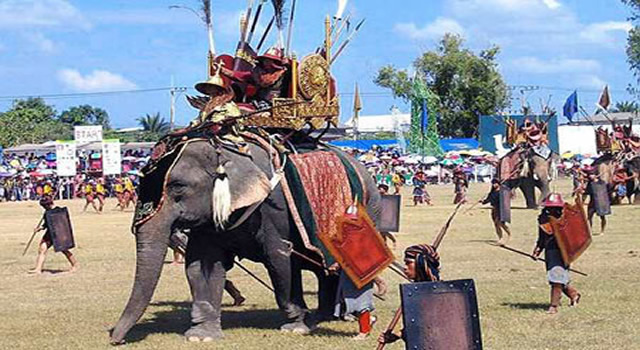 ELEPHANT ROUND-UP
The Third weekend of November, Surin, Northeast of Thailand.
Some 100 elephants participate in this popular event. Between folk dances and traditional cultural performances, these versatile behemoths star in displays of time-honoured wild elephant hunts, demonstrations of intelligence, strength, gentility and obedience, and the spectacular re-enactment of a medieval war elephant parade.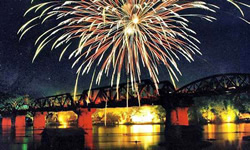 RIVER KWAI BRIDGE WEEK
Late November, early December, Kanchanaburi, Western Thailand.
Features a thrilling son et lumpier show at the world-famous bridge. Archaeological and historical exhibitions, sparkling folk culture performances and rides on trains hauled by World War II vintage steam locomotives number among other attractions.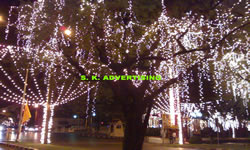 H. M. THE KING'S BIRTHDAY
December 5, National Holiday.
On December 3, the elite Royal Guards swear a new their allegiance to His Majesty King Bhumibol in colourful and stirring ceremony in Bangkok's Royal Plaza. On December 5, festivities occur throughout Thailand Customarily, government buildings and houses are decorated with spectacular illuminations at night. In Night-time at Bangkok, particularly in the Ratchdamnoen Avenue and Grand Palace area become a floodlit fairyland of coloured lights. Wow!!!