Bangkok, the city of angels:
Out & About in Bangkok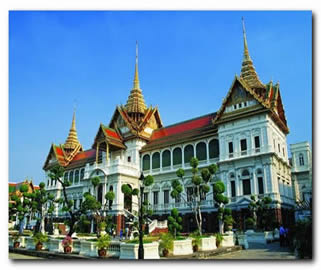 Grand Palace & Wat Pra Kaew
(Temple of the Emerald Buddha Image)
Situated within the same compound walls in the heart of the city, these two venues are the most frequently by foreigner travelers and native resident alike. The Grand Palace, besides being famous for the uniquely impressive buildings its comprises, is also the site chosen by the first monarch of the Chakri Dynasty, King Rama I (1782-1809), to build his residence. Just outside the Wat Pra Kaew complex is the most beautiful and important temple in Thailand. Here the visitors can view, carved from a single block of jasper, the highly revered Buddha Image of Pra Kaew Morakot. Open daily from 8.30 a.m. to 11.30 a.m. and from 1.00 p.m. till 3.30 p.m.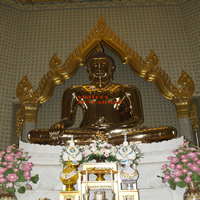 Wat Trimitr
This temple is sanctuary for the world's largest golden Buddha image, five tonnes of weigh and three metres high, which is presumable 700-800 years old. open daily from 9a.m. to 5 p.m.
Wat Arun
(The Temple of Dawn)
This temple is noted that its prangs (pagodas) which are decorated with Chinese porcelain. The middle of Prang is at a height equivalent to 20 storeys building and is the tallest of its kind in Thailand.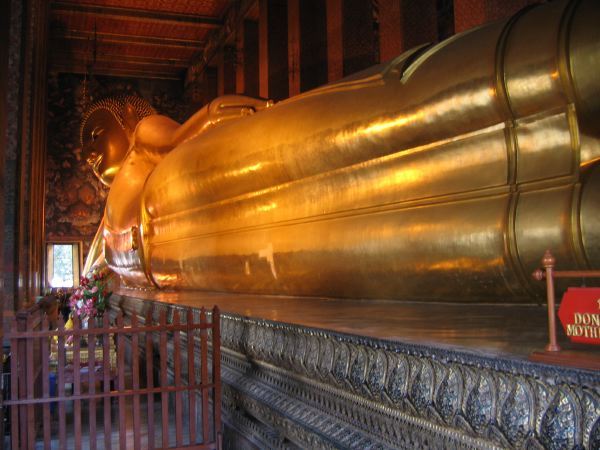 Wat Po
(the temple of Reclining Buddha)
A 16th century of age, it's the oldest, largest and has the most pagodas (71) of any monastery in the city. This temple was the first open university in Thailand. Wat Po is known for its giant reclining Buddha, 46 metres (151 ft.) long and 15 metres (49 ft.) high.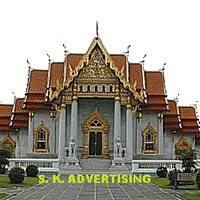 Benchamabophit
(the temple of Marble)
Was built during the reign of King Rama V (King Chulalongkorn 1868-1910). Mainly built with materials from several countries, it's one of the most modern examples of Thai religious architecture. Called "the Marble temple" because its main chapel is constructed in white Carrara Italian marble, this temple is housed a replica of what many considers to be the finest Buddha image ever made in Thailand, Pra Phutthachinnarat Phitsanulok.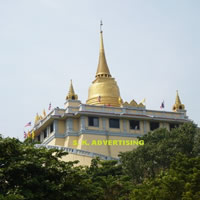 Wat Saket
(the Temple of Golden Mount)
Also known as the Golden Mount temple (Wat Phu Khao Thong), this temple was built during the reign of King Rama I but completed in King Rama V and houses relics of Lord Buddha. To reach the top of the man-made hill on which the pagoda housing the relics is located, you have to climb 318 steps. But the arduous trip is worth because once you reach the top, you'll have a panoramic view of Bangkok.
Wat Sutat & Giant Swing
Construction was started during the reign of King Rama I, carried on through the reign of King Rama II and completed by King Rama III. The architectural style of a uniquely double roof is the most conspicuious feature buildings. Inside at the alters base is the large Buddha image presiding his eight greatly disciples. All are painted in natural colours and life size. Open daily from 9 a.m. to 5 p.m. However, the out standing red big structure, called Giant Swing, is home in front of the temple. In 1930s, the ancient ceremony swinging the bravest men to catch a bag of gold coines by his teeth is banned cause the playing is the most dangerous in human practice. Taking photographs of this amazing red giant structure are allowed by style of yours to catch them.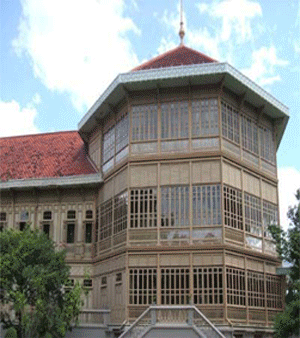 Vimanmek Mansion
This golden teakwood building, the largest of its kind in the world, was built in 1901 as the royal residence of King ChulalongKorn the Great (King Rama V). Today, after having been renovated and opened to the public by H. M. Queen Sirikit, it stands as a private musuem where priceless treasures and a collection of the late Kings memorable are on display. It's open daily from 9.30 a.m. to 4.00 p.m. except on Mondays and Tuesdays.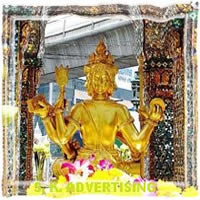 The Erawan Shrine
Originally built toward off bad luck during the construction of the first Grand Erawan Hyatt Hotel decades ago, this shrine dedicated to the Hindu God of Creation (Bhrama) is respected by worshipers in Thai country and around Asia who are concerned about the sacred gifts. It is belived that who are worship this shrine bringing good luck and prosperity.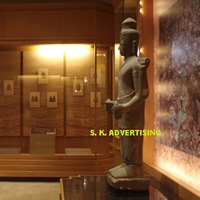 The National Museum
The museum is the largest in Southeast Asia. It contains an 18th century palace as well as housing Thailand artistic treasures from prehistoric to comtemporary. Also on display are artifacts from the recently excavated Ban Chiang, located in the noetheast of Thailand and traced back at least six thousand years.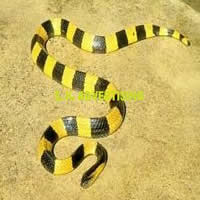 Snake Farm
This is a popular attraction with both tourists and locals alike because of its large collection of live poisionious snakes. If you're not the squirmish type, drop by one early morning and see how the snakes are fed and their venom is extracted--a great opputunity to take some fantastic photographs to show friends and family back home. The snake farm is located inside the Thai Red Cross Society compound on Rama IV Road.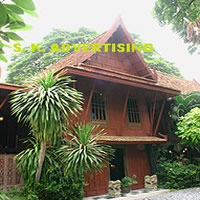 Jim Thompson's House
Considered to be one of the best private collection of Thai culture, Jim Thompson is the legendary American who started the local Thai silk industry and also, by the way, constructed this house bearing his name.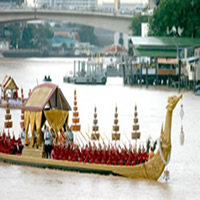 The Royal Barge Museum
The Royal Barges are one of Bangkok's most fascinating sights, housed in sheds in The Royal Barge National Museum on Bangkok Noi Canal on Chao Phraya River's bank of Thon Buri district. These are not barges in the sense of vessels employed to carry cargo up and down the river but are ornately decorated boats with magnificently carved prows that at one time served a military function. Today they are limited to use in Stat ceremonies and celebrations. The most impressive and important one of boats is Suphannahong, the king's personal barge. Built in 1911 the 46 meters craft was hewn from a single tree and is covered with intricate gilt carvings and colorful pieces of glasses, forming an eye-catching mosaic. There is a golden pavilion on board to house the King and his Royal family. There are several other barges in the museum and on their bows sit a variety of figureheads taken from Thai mythology, the Ramakian. This barge features Hanuman, the monkey-minus its ceremonial flagstaffs in hand.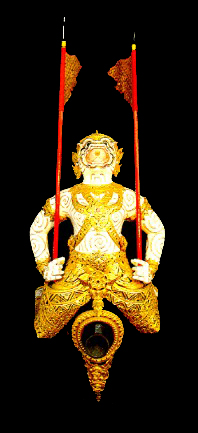 Finally, another places which should not be missed art Thai Boxing stadiums: Lumpini or Ratchadamnoen. Thai boxing is both a sport and self-defence as the boxers are allowed to use almost any part of their bodies. It is the most exciting show indeed.
Nearby Attractions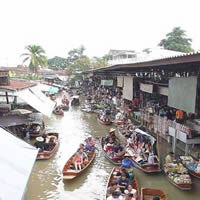 I. THE FLOATING MARKET
An insight into typical canal side Thai life.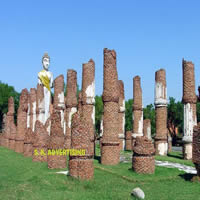 II. ANCIENT CITY
The world's largest living outdoor museum filled with replicas of Thailand past and works of art. It is located at Sumutprakarn province that closed to Bangkok metropolis. Visitors can travel by get on BTS SKY TRAIN (in the nearest future, this BTS Sukhumvit Line will be stoped the last station at Sumutprakarn province). Therefore, it is very easy to get there and touch a whole valuable iconic nation in one place. Let's go there.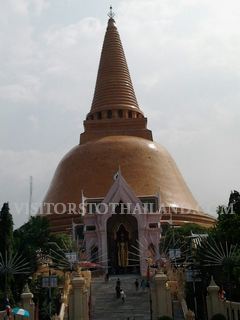 III. PRA PATHOM CHEDI
The world's tallest Buddhist monument located at Nakhon Pathom province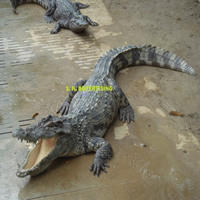 IV. SAMUTPRAKARN CROCODILE FARM and ZOO
One of the world's largest with over sixty thousand crocodiles, some of which can't be found else where on the earth.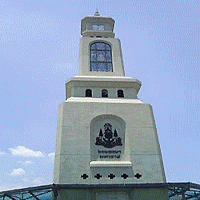 V. THE WEEKEND MARKET
Called because of its opening-day--it's only open on the weekend (Saturdays and Sundays), the Bangkok's largest market offer a bargain hunters paradise.
VI. DUSIT ZOO & GARDEN
It is a pleasant park and zoo in the metropolis opens daily from 7.00 a.m. till 6.00 p.m.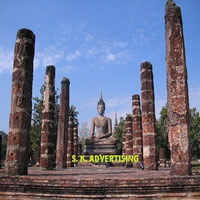 VII. Ayuddhaya Ancient City
Going up North of Bangkok in about 76 km is Phranakorn Sri Ayuddha province. Here the magnificent ruins of the old capital city still remain and some have been renovated.
"VISITORS TO THAILAND & Visitors to Koh Chang will be always your friend.