Travel Route Information:
Phang Nga-Similan-Surin Islands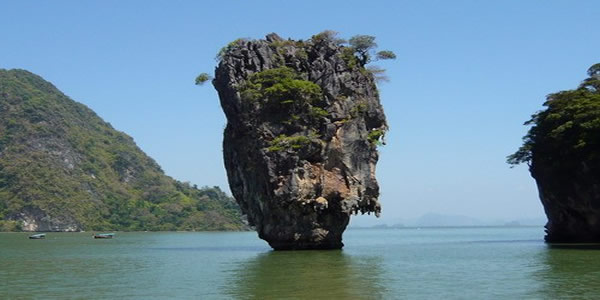 By Air:

The best decision from Bangkok to Phang Nga province is airplane, taking airtime approximately an hour. Infact passengers do check-out at Phuket International Airport since Phang Nga has no airport. For more information please contact

Thai Airways Intl'

By Bus:

Both air-conditioned buses and non air-conditioed buses leave from

Bangkok's Southern Bus Terminal (Sai Tai @ Taling Chan) daily

. For more visit

Transport official site

By Rail:

There is no direct train to Phang Nga province; However, for those who prefer a classic trip traveling by train, Phunphin Train Station is the nearest station to reach Phang Nga province. After check-out from the train, catching a bus or Taxi to get Phang Nga respectively. For more info call Hua Lampong (Bangkok's Railway Station) tel:0-2223-7010, 0-2223-7020, 1690 or

www.railway.co.th

By Private Car:

From Bangkok,

1) driving along the National Highway #35 (Thon Buri-Pak Tho route) via Samut Songkram province then reaching to Highway #4 or A2 or else AH2 (Phetchakasem Road--the main route through Southern) via Phetchaburi province and Hua Hin to Prachuap Khiri Khan, Chumphon , Ranong provinces. Passing Kapoe, Suk Samran districts and then reaching Khura Buri and Takua Pa districts of Phang Nga respectively. Total distance is approximately 788 kilometers.
2) When reaching Chumphon, Alterating to take Highway #41 passing Lang Suan and Tha Chana through Khiri Rat Nikhom districts of Surat Thani province (last two ones) by turning right traffic at Ban Tha Rong Chang Junction to take Highway #401, then driving via Khiri Rat Nikhom and Ban Ta Khun. Remind yourself prepare to take a new route that is Highway #415 for destination Plai Phraya district along the road through Ao Luek and Takua Thung districts. Turning back to the Highway #4 or A2 or else AH2 again, driving through traffic along this route, passing Ban Khok Kloi and straight onto the road. Total distance is estimately 790 kilometers., infact the latter route is the best way local used to drive mostly.
Please pay more attention. Visitors To Thailand is not responsible for any error of other websites or third party.